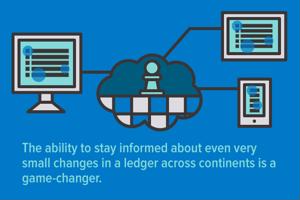 Most organizations that are interested in utilizing cloud accounting software start with simpler programs. However, as their operations expand, they may find themselves constrained by software not built to deal with the needs of a growing business. For example, QuickBooks isn't ideal if your company needs to adopt a new mobile-focused, easily scalable philosophy that has come to mark the new wave of cloud computing that smart businesses now follow. In fact, many groups wind up being dissatisfied with the performance that software like QuickBooks gives them when compared with cloud accounting software like Intacct.
The benefits of a fully-fledged solution
It's no wonder then that more medium-sized businesses are upgrading to more sophisticated solutions. According to Forbes contributor Ben Kepes, cloud-based financial programs like Intacct have gained a great deal of traction among midsize organizations in recent years, thanks to their greater functionality and ability to meet the complex demands of a growing business.
What Intacct in particular does that many of its competitors don't do is feature full integration with a variety of mobile packages. Executives who are interested in keeping themselves fully informed as to an organization's financial progress can utilize the software from a mobile device like a tablet and stay connected to the database of information as it grows. This allows decision-makers to have instant connection to a company's most important body of knowledge: its financial networks. With immediate access to the ever-changing, constantly revising systems of acquisitions and payouts, an executive can be more fully informed and make better decisions.
That being said, some of the major benefits of Intacct and other cloud accounting software stem from the ability to access an unprecedented amount of information. While cloud financial software does involve less technical work for accountants, consumes fewer system resources and overall has a lighter footprint than older styles of financial bookkeeping, these traits alone do not dictate the value it represents to an organization. The ability to stay informed about even very small changes in a ledger across continents is a game-changer. Even without making a phone call, sending a text or jotting out an email, decision-makers across the world inside of an organization can play by the same rules.
The level of visibility into company operations provided by Intacct is tremendous. Business leaders can keep an eye on their financial systems and revenue streams at a granular level, enabling them to both quickly address issues in the here and now as well as better plan for the future. Furthermore, the software's real-time intelligence features help businesses make more effective and lucrative decisions.
"By getting better feedback faster, Intacct can let a company super-charge its growth."
The Intacct advantage
With clear visuals and strong connectivity features, Intacct can help everyone in the organization stay connected to the data that makes a company run. With a customizable interface, tamper-proof collaboration tools and automated payments, Intacct allows people to gain the tightest possible control over their budget. Getting a clearer picture of information is what the newest digital revolution is all about. Companies are getting more excited about the possibility of actually understanding where their money is and how it's being used at all times. Analytics, big data and these other popular concepts fundamentally boil down to being aware of how an organization's actions and decisions affect its growth. By providing better feedback faster, Intacct can let a company super-charge its growth. For businesses that feel constrained by their current financial software, Intacct represents an opportunity to upgrade to a more sophisticated and functional solution.